Saving the Hansen House is a documentary about a man who buys a dilapidated farmhouse that changes his life.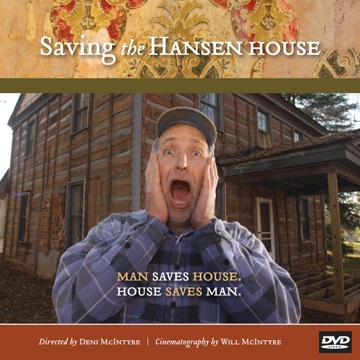 Quiet, scholarly Bob Hansen is the new owner of an eighteenth-century fixer-upper in the Moravian farming community of Bethania, NC. As he rehabilitates the old house, longtime Bethania residents contribute advice and share stories about its past, and Bob Hansen discovers a sense of community that America has largely lost.
Bob speaks openly about how much money he spends on the restoration and the frustrations he experiences in the remodeling. He has a cast of real characters on his construction crew, including Kevin Thomas, the log-whisperer and Bob Pearl, the antiquarian who oversees the restoration, but doesn't always see eye-to-eye with Bob.
In this, her first hour-long documentary, director Deni McIntyre gathered material over the course of three years. After a career traveling the world photographing and filming in more than seventy countries, it was a welcome change to have a project with most locations less than five minutes from her home in Winston-Salem, North Carolina.
Saving the Hansen House was captured on a Panasonic HVX 200 with additional footage captured from a RED One camera. Music for the soundtrack was composed by Emmy-nominated Marshall Crutcher of San Francisco and by multiple Grammy Award recipient David Holt of Asheville. It was performed by David Holt, Marshall Crutcher and Will McIntyre.
DVD $24.95 plus S&H
Blu-Ray $29.95
Saving the Hansen House © 2011
Director: Deni McIntyre
Cinematographer: Will McIntyre
Executive Producer: Scott Davis
Music Direction: Marshall Crutcher
Music composed and performed by David Holt
Aspect Ratio: 16:9 (1.78)
Length: 56:40