Doc Watson Tribute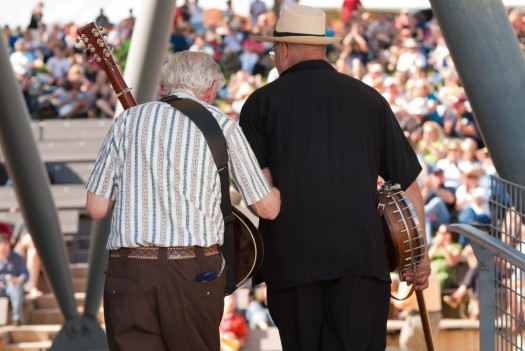 "We knew Doc Watson as a genius musician and now, through stories, photos and song, David Holt lets us know about the boy and the man who would become a national treasure – all while showcasing David's own incredible talent as folklorist and musician. Few know more about Doc's  life, music and stories than David who now pays tribute to Doc through this magnificent show that takes the audience on a wonderful journey through Appalachia, Doc's life as musician, husband and father – and the important contribution and influence Doc had on music and  musicians worldwide."
John Ellis, Diana Wortham Theatre, Asheville, NC
FOUR-TIME GRAMMY AWARD WINNER DAVID HOLT PLAYS  MUSICAL TRIBUTE TO FOLK LEGEND DOC WATSON
Four-time Grammy award winner David Holt traces the life and legacy of folk legend Doc Watson who passed away on May 29, 2012 after a remarkable musical career that established him forever as a national treasure of worldwide importance. In this lively and entertaining special matinee performance, Holt pays tribute to his mentor with stories, songs and historic photographs. Joining Holt on bass and harmony vocals is Jeff Hersk.
David Holt is a musician, storyteller, historian, television host and entertainer, dedicated to performing and preserving traditional American music and stories. Holt began performing with Doc Watson in 1998 and one of the duo's first appearances was on an hour-long UNC-TV (North Carolina PBS) program. Immediately following that program, sponsors began calling to book the duo's new and exciting show, titled Hills of Home. Doc and David toured together for fourteen years performing several shows per month. "Having been inspired by his music as a young man, I first met Doc in 1972," says Holt. "If I had to choose one mentor that I have learned the most from it would be Doc Watson. I consider him my "musical father."
Doc Watson was an American folk legend who left an amazing legacy of music and stories. Hailed as one the country's greatest folk musicians, Doc carved an indelible mark into American music and culture. To be recognized as a national treasure by President Jimmy Carter, honored with the National Medal of the Arts by President Bill Clinton, and given an honorary doctorate degree from the University of North Carolina calls for being more than a fine musician and entertainer. Doc Watson received these accolades not only for his talent but for the honor, integrity, humility, grace, and dignity which he displayed throughout his long and distinguished career. While there are many, many great guitar players and singers; there is only one Doc Watson.
"We know that Doc Watson is a national treasure and David's warm loving tribute to him reminds us why! Full of humor and heart. Our audiences loved it."    Judy McGuire, Heritage Theater, Mountain City, TN