Storytelling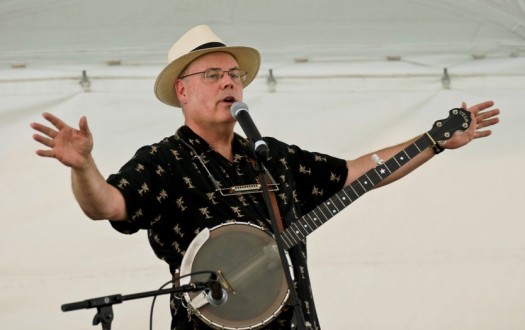 ---
The storytelling revival started in 1973 with the first National Storytelling Festival in Jonesboro, TN. I had been collecting mountain songs and stories since the late 1960s and started incorporating narrative tales into my music concerts, unaware that other folks were becoming professional storytellers.
In 1976 I was invited to tell at the National Festival. What a thrill it was to meet other performers using folk tales and true life stories in their shows. From then to now the storytelling revival has grown into a world wide phenomenon.
Here are my recordings and books of stories. There is something here for every age group, from children to adults.
Cutting Loose: Live at the National Storytelling Festival
David Holt and Josh Goforth

This is the first duo CD by David and Josh Goforth. It was nominated for a Grammy in 2009. Recorded live at the National Storytelling festival the CD captures the excitement of a rollicking concert with David and Josh.

Price: $15.00 BUY NOW!

Live & Kickin' at the National Storytelling Festival with Zeb Holt
Grammy Nominated Live & Kickin' is David Holt's snapshot edition of his musical and storytelling odyssey over the last forty years.
"The best musical storyteller is David Holt" – VOGUE

Price: $15.00 BUY NOW!

Why the Dog Chases the Cat: Great Animal Stories
by David Holt and Bill Mooney Grammy NomineeHear tales about the likes of Rabbit, Bear, Frog and Miss Fox – amazing and outlandish characters having funny and outrageous adventures. So why does the dog chase the cat???
Ages 4 and up 40 mins.

Price: $15.00 BUY NOW!

Spiders in the Hairdo – Modern Urban Legends
By David Holt & Bill Mooney
Grammy NomineeThe funniest, scariest, and downright weirdest urban legends going around today.

Price: $15.00 BUY NOW!

Stories & Songs for Little People
by Pete SeegerA warm positive collection of Pete Seeger's greatest hits. A masterpiece of lively banjo playing and endearing storytelling to be enjoyed for years to come.

Price: $15.00 BUY NOW!

Hairyman Meets TailyboneDavid Holt brings together a new collection of favorite all ages will enjoy. Find out what happens when Hairyman meets Tailybone.

Price: $15.00 BUY NOW!

Mostly Ghostly Stories-Collectors Edition
by David HoltThis Collector's Edition is a new array of favorite spine-tingling tales to keep you spellbound and on the edge of your seat. Not for the faint of heart!

Price: $15.00 BUY NOW!