Good Medicine: New CD from David Holt and Josh Goforth
Good Medicine CD release party and concert
June 18, 2016 8:30 PM
Isis Music Hall, Asheville, NC 28806
For more information or interviews: office@davidholt.com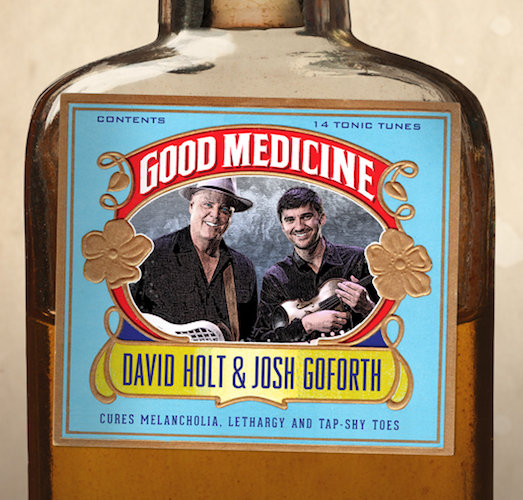 Good Medicine: David Holt & Josh Goforth
Four-time Grammy award winner David Holt and Grammy nominee Josh Goforth celebrate the wide variety of sounds and styles found in the music of the southern mountains with their new release, Good Medicine, on High Windy Audio. Their creative blend of ballads, blues, and banjos with a dash of Tin Pan Alley and bluegrass makes a powerful tonic.
Combining the strengths of two generations and their mutual passion for music, David and Josh mark their 16 years performing together with their second duo recording. Good Medicine kicks off with "John Henry" collected from Etta Baker and brought to the 21st century with dynamic National steel guitar layered with driving percussion. "Darkness on the Delta," from the Smathers Swing Band, showcases Josh's outstanding guitar playing and singing. Walt and Ethel Phelps were street musicians in Asheville from the 1930s until the 1980s. David learned "I Got Mine" from them. It was their signature song.
David began collecting and learning music in the Blue Ridge Mountains from the old-timers in the 1960s. Well known for his national television and radio work spanning more than three decades, Holt currently hosts the PBS series David Holt's State of Music. David was inducted into the North Carolina Music Hall of Fame in 2016.
Josh descended from many of the same people David learned from forty years ago. A highly accomplished old-time, bluegrass, and swing musician, he plays close to 20 instruments. His fiddling was featured in the movie Songcatcher, both onscreen and on the soundtrack. Josh is the folk music director at the Academy for the Arts in Asheville, NC.
David and Josh's combined talent makes a recording that's fresh and spirited, filled with timeless music that has wide appeal. It's Good Medicine that, as promised, "cures melancholia, lethargy, and tap-shy toes."
All songs were collected in the Blue Ridge Mountains by David Holt and Josh Goforth.
John Henry-Inspired by the slide guitar playing of Etta Baker and Lesley Riddle
Guitar Rag-From Merle Travis and the fine fingerpicking guitarist Eddie Pennington.
Whoop 'Em Up Cindy-From a 78 rpm recording of Uncle Dave Macon
Darkness on the Delta-Inspired by the Luke Smathers String band from Canton, NC
I Don't Love Nobody -Josh's version of a lively flat picked guitar tune.
I Got Mine-David learned this from Walt Phelps, an Asheville street singer from the 1930s to the 80s.
Stepstone- A haunting duet collected by Bascom Lunsford.
Mississippi Mud-Tin Pan Alley tune from the Luke Smathers String band.
Pretty Peggy-O- A Madison County ballad from Doug Wallin and Jerry Adams.
Billy Wilson-Great fiddle tune played on banjo and guitar.
Hula Lou-Learned David's neighbor, Walt Davis, who recorded it in 1927 with the Carolina Tar Heels.
Lily of the West-A broadside ballad collected from Evelyn Ramsey Madison County, NC.
The French Broad River-From the playing of Obray Ramsey.
Must Come in at the Door-Doc Watson learned this one as a child in Deep Gap, NC. and showed it to David.