Acoustic Guitar Article – December 2011 By Carol Rifkin
Doc Watson and David Holt
Almost 30 years since their first collaboration, the North Carolina musicians continue to explore the rich traditions of American folk.
To an outsider, North Carolina traditional musicians Doc Watson and David Holt might seem like an odd pair. Born in 1923, Watson is an icon of American folk, an expert fingerpicker and master flatpicker who has influenced guitar players such as Clarence White, Norman Blake, and Tony Rice. Meanwhile, Holt is a product of late '60s folk wander lust, a multiskilled dynamo who tears through stories, songs, banjo, and National steel guitar with powerful charm. But they operate like a musical father and his adopted son. Both are Grammy-winning artists who have achieved great success and heartrending loss, and 40 years after their first meeting, their musical collaboration is one of traditional music's most powerful, creative, and enduring.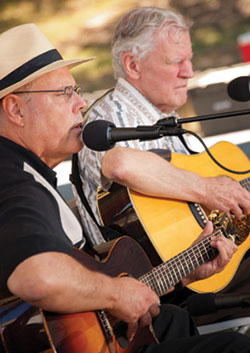 "Working with David has been very rewarding because he sort of guides the show as we go," Watson says. "He asks me to [talk] about my childhood." In 2002 Watson and Holt released Legacy, a three-disc recording that documents Watson's history. "People were after him to write an autobiography, and I wanted him to do it, too," Holt says. Watson refused. "So I said, 'What if you just tell your stories? I can ask you questions and we can record it and you can tell your stories yourself,'" Holt says.
The idea grew into a Grammy-winning project. Disc one tells of Watson's early life, while the second is a mix of interviews and his most famous material from the '60s, like "Tom Dooley" and "Tennessee Stud." Disc three was recorded live at Diana Wortham Theatre in Asheville, North Carolina, and the mix of impromptu stories with classics like "Train That Carried My Girl from Home" or "Freight Train" and traditional favorites like "Darlin' Cory," "Shady Grove," and "Whiskey Before Breakfast/Ragtime Annie" was so popular it led Watson and Holt to develop their current "Hills of Home" concert series.
"Doc says 'What are we going to play?'" Holt says of their concerts. "I make out a list and think about the stories I am going to ask him. I keep it focused on him. It's about people getting to see Doc Watson. People will look back and say they saw a live concert with Doc Watson the same way people say they got to see a concert with  Mark Twain."
First Meetings
Watson and Holt met for the first time in 1971 at a festival in Lavonia, Georgia. Seeing Watson alone backstage, Holt went to talk with him. "I told him how much I enjoyed his music and particularly the tune he'd just played, 'Deep River Blues'—what a great fingerpicking thing that was [see transcription on page 67 of December 2011 issue]."
One of their first jobs working together was on a television show on the now defunct Nashville Network called Fire on the Mountain. Filmed in Maggie Valley, North Carolina, the show—which was hosted by Holt and also featured  Watson's ferociously talented son, Merle—lasted from 1984 to 1987. That show spawned an album by the trio, 1985's
Reel and Rock.
Working in a studio in Deep Gap, North Carolina (near the Watson home), the trio laid down tracks for Reel and Rock. It would be Merle Watson's last recording project; he died in the early morning hours of October 23, 1985, in a farming accident. "Doc called me and told me he'd died," Holt says. "I went up there and hung around Deep  Gap and went to the funeral."
The musical and personal connection forged during the recording session drew them together and would carry them through hard times. "He cancelled a week's tour in Texas and came here to be of comfort to me and Merle's mother," Watson says. But it wasn't long before it was Watson's turn to lend Holt comfort. The 1985 death of  Holt's ten-year-old daughter, Sara Jane, in a car accident was a devastating blow. "Doc was one of the first  people down here," said Holt. The tragedies bond them.
Flat and Travis Picking
"Music is a very good go-between to bring two people together, if both of them love music and enjoy doing it," Watson says. "Things like, for instance, 'Any Time,' the Eddie Arnold tune, or 'Ready for the Times to Get Better.' That is not old-time music. He watched me play it on the guitar, and the first thing you know,  [Holt] recorded it and it sounded just like me playing it."
Holt is trying to learn as many of Watson's songs as he can and plays them for a few hours every morning. When he plays one for Watson, sometimes he responds in silence; other times he will play a tune back in turn.  "If he doesn't like it, he'll say it reminds him of 'so and so,' and I'll know it's someone he doesn't like," Holt says. "He never criticizes me directly."
Holt says that rising to the exacting level of Watson's music has made him a better musician. "He makes it  even more challenging because he doesn't like to practice," Holt says. "How we got to touring for the last  13 years, well, it's because we did [An Evening with Doc Watson featuring David Holt and Richard Watson] together for UNC–TV. I'd played with him some but not enough for a one-hour television special. I asked him for just one practice at his house, and we didn't even get to all of it. Even today we don't really practice. I'll say, 'Doc, can we work up "Rise When the Rooster Crows" or something?' If he says yes, we do it at the sound check once maybe and then we'll do it in the show."
However, Watson says he does practice—alone. "Everybody has to practice a little," Watson says. "I have a pickin'  room downstairs where I practice, and I don't worry people repeating stuff over and over if I'm learnin' it, to get the words together, certain turns on the guitar. Practice can get monotonous for people who have heard you do it over and over and have to put up with you while you do it. You've got to practice to get the best you can."
Although he's a virtuoso flatpicker and fingerpicker, Watson downplays his fingerpicking ability. "It's hard," says Watson, reflecting on his craft. "I had to work at it a long time. I can't play but except in the style  that Merle Travis played in. Merle Travis played with his thumb and finger and did all that good guitar playing,  and that's what I've attempted to do. I ain't as good as Merle Travis was."
Watson describes his son Merle's style as a complex mix, unique and more developed than his own.  "Our boy Merle played with three fingers, two fingers and a thumb, and he could flat do it," Watson says.  "Listen to some of the recordings he's done, and you'll know what I mean. I didn't teach my Merle, he watched some of the black blues players for instance, like Mississippi John Hurt, and he played very clean versions of all the stuff they did. There is an album called Remembering Merle—listen and you'll hear it. There's a lot of Merle on that."
Photo credit, top, flyingrooster.net