Reel & Rock 25th Anniversary Edition
David Holt
High Windy Audio HW 1253
Reel and Rock / Free Little Bird / Dixie Darlin' / The Coo Coo Bird / Texas Bound / Preacher and the Bear / I Got You / Sail Away / Raincrow Bill Goes up Cripple Creek / Forked Deer / Meeting is Over / Goodbye, Goodbye
What jumps out immediately are Holt's skill as an all-around entertainer and how well he brings that skill across on the recording, particularly when he is singing. With most performers, you only hear what they sing or play on the record. On this recording, when Holt is singing a song such as "Reel and Rock," or "Sail Away," or "Texas Bound," with its fun, devil-may-care lyrics, or singing a story song such as "The Preacher and the Bear," or his own "Goodbye, Goodbye," you can almost hear him grinning or giving you a sly wink and a nod. Uncle Dave Macon comes to mind, though Holt is far less bombastic than the Dixie Dewdrop. Still, they both share that vaudevillian know-how, and that quality goes a long way to raising the level of enjoyment, even for songs that are standard-worn. Throw in the guitar work of Doc Watson, a performer equally adept at entertaining, and you get a recording of high spirits.
For those who missed this recording the first time around, there are twelve songs. Ten of them are of the traditional variety. The other two were written by Holt; "I Got You" is an anniversary song to his wife, and "Goodbye, Goodbye" pays tribute to the Mountain Lily steamboat that once plied the river from Horseshoe to Asheville, North Carolina. The album opens with the "Shady Grove" variant "Reel and Rock," which has a marvelous and lively flow. From there, the highlight tracks include, among many, a staple from Doc Watson's days with Clarence Ashley, "Free Little Bird," a smooth rendition of the Carter Family's "Dixie Darlin'," "Texas Bound," and the doleful but hopeful gospel tune "Meeting is Over," sung here over slide and finger-picked guitar. Holt and Watson also perform a nifty harmonica and hambone rhythm duet on "Raincrow Bill Goes Up Cripple Creek," further strengthening their vaudevillian technique.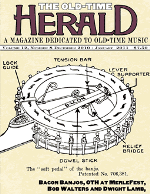 Most of the songs here, excepting "Raincrow Bill" and "Meeting Is Over," are a hybrid form of old-time and bluegrass. There is no fiddle, but there is Dobro. The banjo work is all clawhammer, but the use of individual solos between verses and choruses leans to bluegrass. Joining Holt and Watson are Doc's son Merle (making his last recordings before his death) on fingerstyle and slide guitar, Dobroist Jerry Douglas, bassist Buddy Davis, electric bassist Wayne Kirby, and vocalists Bucky Hanks, Kathy Chiavola, Richard Carpenter, and Steven Heller. Holt's banjo is predominant and he handles all the lead singing. Equal prominence is allotted to Doc's guitar leads, with Merle contributing some good work here and there on what is and always was an album worthy of reissue.
Bill Wagner